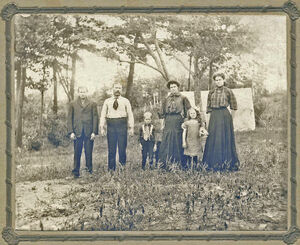 Welcome to the Local History Wiki
A place to publish your local history. For example,
Host your local history here
Researching the history of your property or neighborhood? Here's a place where you can share your work, and collaborate if you wish to.
What is welcome here:
Articles covering topics in the following fields:
Details of archives, record offices and similar organisations - though the Archives wiki may be more appropriate.
Local government - structure, administrative bodies and members thereof etc.
How to research particular types of local history, topical history, and microhistory.
Reference materials of various kinds (and relevant websites).
Lists of local history and similar societies, wikis, etc, covering a particular area, country, field of interest or time period, with links to relevant websites. If it is relevant, but not yet described here - add it.
Developing chronologies and other materials, such as Timeline of government archives.
Particular lines of research - or a brief overview with a link to a website with more detail.
Particular types of research projects (eg Scrapbooks and local history)
Anything else that can be reasonably defined as 'history in the small scale but not purely genealogical.'
If appropriate a brief description with links (and categories) will suffice.
Original Research (as defined by Wikipedia) and other created materials are allowed - but may be subject to the usual collaborative involvement.
Cooperation/coordination with other relevant wikis is welcome.
See also
Links to other wikis and websites which fall within the remit of this wiki are welcome.
Hub pages
The timeline pages above.
Latest activity
Community content is available under
CC-BY-SA
unless otherwise noted.