When the climate was warming and glaciers were receding some 11,000 years ago, nomadic Paleo-period natives were the first people to migrate to this area. Their stone points were found in the lowest levels of a study site on the Haw River before Jordan Lake was flooded.
From about 8000 BCE Archaic-period cultures inhabited the creeks and uplands of this area. They left an expanded set of more specialized stone tools, including scrapers and atlatl points. A late-phase Archaic settlement existed nearby on New Hope Creek.
Around 1000 BCE there was a transition to Woodland culture people. This culture was more settled and practiced agriculture and produced pottery and woven fabric. Several late prehistoric archaeological sites are nearby. On the Haw in northern Chatham County are late prehistoric villages and a contact period town. The contact period town was abandoned after 1650 and before 1701 when John Lawson visited the area. Evidence of contact at this town include brass ornaments and glass beads found in graves, as well as peach pits. Peaches were introduced by the Spanish, who explored North Carolina west of here from 1540 to about 1568.
Native Americans were seldom noted in the accounts of the settlement of Chatham County. There are very few names of places or features derived from native languages. One exception, the Haw River, flows into Chatham from Alamance County to the north.
The absence of Native people during the settlement period in Chatham County may have been partly a result of our position in an uninhabited buffer zone between population centers. Occaneechi, Sissipahaw, and Shakori people were reported nearby, and Cape Fear people to the southeast. These are all thought to have been Sioux cultures.
The wider picture of Native Americans in the southeast region at that time is one of depopulation caused by devastating wars between Native groups and between Native Americans and Europeans, endemic and epidemic contagious diseases, and cultural contact. This upheaval caused many migrations. In general, the time immediately before settlement was one of chaos among Native Americans.
A tract including land that is now Northeast Park was deeded from Proprietor Earl of Granville to James Kirby in 1761. The tract, which included additional land on both sides of Bush Creek, had been surveyed for Edward Tetam in 1756, who evidently did not complete the transaction with the Granville agent. Kirby's rent owed to the Lord Proprietor for the 360 acre tract was 14 shillings 5 pence per year. Kirby also registered a larger tract further up Bush Creek in 1763.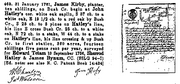 Bush Creek formerly flowed along the north and east sides of the Northeast Park property, then a mile or so southwards to New Hope Creek. Now this part of the creek is flooded by Jordan Lake. There are scenic views of upper Bush Creek, untouched by the Corps of Engineers, from near the northern end of Big Woods road. Deeds for land transfers in this area for the subsequent two centuries often described the location as "State of North Carolina, County of Chatham, waters of New Hope". Without mention of a watershed it would have been difficult to locate land described in deeds on the ground before accurate global coordinates were available.
Chatham County was formed in 1771 from the southern part of Orange County in order to divide the rebellious "Regulators" and to make travel to the county seat more convenient for the growing population.
James Kirby is on the Chatham Co., NC., Militia muster roll of Captain Isaiah Hogan's Company, Sept 19, 1772. He died here in 1816, leaving his estate to his wife and ten children. After the Kirby family, subsequent landholders of the Northeast Park land included the Atwater, Davis, Sears, and Grace families. The Atwater family built a homestead on this property in the 1840s that burned after Hurricane Fran damaged it in 1996.
In 1850 the Atwater farm comprised 700 acres, 200 improved, with 30 cattle including 9 milch cows, also 45 sheep, 4 horses, and 5 asses or mules. The household consisted of Jahaza and Sarah (Stone) Atwater, their 5 children between 7 months and 14 years old, and 23 slaves between 5 months and 55 years of age, about 15 of whom were female. Their annual production included 1000 bushels of Indian corn, 50 bushels of oats, 180 bushels of wheat, 50 pounds of wool, 36 bushels of peas and beans, 40 bushels of Irish potatoes, 75 bushels of sweet potatoes, 450 pounds of butter, and 9.5 tons of hay. No tobacco or cotton was produced that year.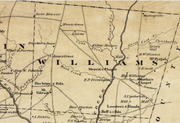 One of the children, John Wilbur Atwater, who was 9 years old at the time of the 1850 census, later became a state senator and served in the US Congress (1899-1901) as an independent Populist. He had previously served in the Confederate Army, Company D, First Regiment, and was with the army of Gen. Robert E. Lee until Lee's surrender at Appomattox.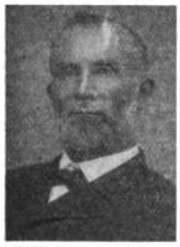 In 1880 the Atwater farm consisted of 60 cultivated acres with an additional 1100 acres of unimproved land. 26 acres were corn, 20 cotton, 8 wheat, and 6 oats. The livestock included 2 cattle, one a milch cow producing 25 lbs. of butter, 5 swine, 10 chicken producing 25 doz. eggs. The household consisted of J. W. and 5 children age 3 to 17 years. J.W.'s wife Eugenia (Fearrington) Atwater had died that January. It's likely some of the neighboring households provided farmhands for the Atwater household. Besides the butter and eggs, the household that year produced 550 bushels corn, 150 bushels oats, 100 bushels wheat, 10 bales of cotton, and 2 bushels potatoes. From their forest they cut 10 cords of wood worth $4 at the time.
The nearest community was the hamlet of Farrington, also called Rialto. Several mills were in New Hope Valley, the nearest of which was Fearrington Mill. Both of these locations, Farrington village and Fearrington Mill, are now beneath Jordan Lake.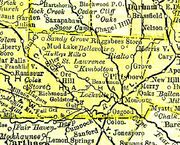 About 1906 railroad service from Durham through New Hope valley was inaugurated by the Durham and Southern Railroad Co. The line ran nearby, crossing Bush Creek about a mile downstream from here with a stop at Farrington. The business plan was to transport timber from the area, mostly for production of railroad ties. A sawmill at Farrington cut the timber to rough length for shipment. Only a few old trees remain now in the area, among them those in Northeast Park that were part of the homestead. Besides timber, the train transported cotton, corn, beans, and tobacco, as well as passengers. Rail trade likely helped the farmers in the area get better prices at the expense of the local grist mill operators. By the middle of the 20th century the local grist mills were no longer operating.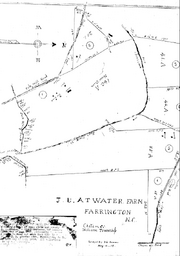 In 1945 "Hurricane #9" flooded New Hope Valley, leading to plans for a dam and reservoir that eventually became Jordan Lake. Jordan Lake was authorized in 1963, and construction began in 1967. Land along Bush Creek was taken by the US government for the lake, and is now property of the US Army Corps of Engineers, managed by the NC Wildlife Resources Commission as a bow hunting area. Jordan Lake was fully flooded in 1982. The railroad line was relocated to a new position by the US Army Corps of Engineers as part of the Jordan Lake project. Revenue-producing service on the new line ran from 1974 to 1981, when it was used to transport parts of the Shearon Harris Nuclear Plant. Part of the new line is now an historic railroad operating from Bonsal (including a part of the 1906 line), and part has been converted to the American Tobacco Trail, a portion of which spans the northeast corner of Chatham County.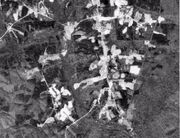 Land for Northeast Park was bought by Chatham County in 2007 with funds from the county's recreation fee paid by developers when land is subdivided into lots of 10 acres or less.
On Sept. 7, 2010, the Chatham County Board of Commissioners awarded a bid for the first phase of construction with substantial grant funding to support the costs. The board also permanently set aside 15.3 acres of the park as a conservation easement using a grant from the Clean Water Management Trust Fund (CWMTF). Additional support was received from NC State Parks and Recreation Trust Fund (NCPARTF), Meadowmont Village, Arthur Carlsen Charitable Fund of Triangle Community Foundation (www.trianglecf.org) for the Arthur Carlsen Memorial Tennis Courts, and other sources.
On Aug. 19th, 2011, the Park is officially opened.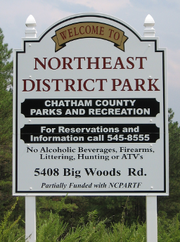 Special thanks to the resources of the Chatham County Historical Association, Inc. and to Jane Pyle for help and guidance.
Sources:
Chatham County, 1771-1971. Wade Hadley, Doris Goerch Horton, and Nell Craig Strowd, North Carolina: S.N. Publishers, 1971.
http://en.wikipedia.org/wiki/Joara
http://rla.unc.edu/ArchaeoNC/time/contact_CPied_Mitchum.htm
http://www.rla.unc.edu/Publications/pdf/ResRep29.pdf
http://rla.unc.edu/Publications/pdf/ResRep3.pdf
http://www.northeastcreek.org/wordpress/?page_id=452
Chatham County Historical Association, Inc. http://chathamhistory.org/
Chatham Co. deeds, personal communication, and personal recollection
http://www.rafert.org/colonial/Chatham1772.htm
Orange Co. Records, Vol. VI, Granville Proprietary land office, Deeds and Surveys 1761-1763, William Bennet, ed., private, Raleigh, 1989.
http://books.google.com/books?id=tmpOXlW2sx0C&pg=PA3&lpg=PA3&dq=Aboriginal+Population+Movements+in+the+post+contact+Southeast+Marvin+T.+Smith&source=bl&ots=S35waFk9Oh&sig=msUJJ1oHT4NBbJ2GHNvjiPIh0K8&hl=en&ei=imhJTtv1H9GUtwfiptDZBA&sa=X&oi=book_result&ct=result&resnum=1&ved=0CBwQ6AEwAA#v=onepage&q&f=false
http://chathamcountyline.org/pdfs/CCL.sept09.web5.pdf
http://books.google.com/books?id=urzTAAAAMAAJ&pg=PA170&dq=Atwater,+nc+senator+1890&hl=en&ei=BQsWTs6nMYna0QHYovyvAw&sa=X&oi=book_result&ct=result&resnum=9&ved=0CFEQ6AEwCA#v=onepage&q=Atwater%2C%20nc%20senator%201890&f=false
http://ncmuseumofhistory.org/nchh/amerindian.html
1850, 1880 US censuses and schedules.
http://www.ncgenweb.us/orange/oc_atwater_strowd.html
http://en.wikipedia.org/wiki/John_Wilbur_Atwater
http://www.chathamnc.org/Index.aspx?page=1124
http://www.ncwater.org/Data_and_Modeling/Cape_Fear_River_Basin_Model/oldmodel/project1.htm
http://www.chathamnc.org/Index.aspx?page=873
http://www.nhvry.org/history.htm
Other links:
http://docsouth.unc.edu/sohp/H-0098-1/menu.html
http://cemeterycensus.com/nc/chat/cem068.htm
Community content is available under
CC-BY-SA
unless otherwise noted.